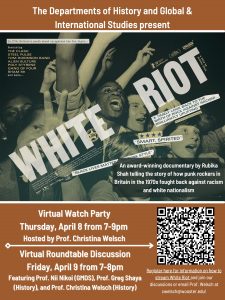 Greetings!
The Department of History and the Department of Global and International Studies would like to invite you to a special screening and discussion of Rubika Shah's 2020 documentary, White Riot, which explores the Rock Against Racism movement that developed among punk rockers in Britain in the 1970s.
The film distributor is making unique licenses available to Wooster students, faculty, and staff to watch via Vimeo anytime from April 7 to April 9. To get your unique link, please register here!
In addition, we hope that you will join us for two events intended to facilitate discussion about the documentary and the historical moment it describes.
On Thursday, April 8, join Professor Christina Welsch (History) for a Virtual Watch Party from 7pm to 9pm to discuss the film in real time.
On Friday, April 9, join Professor Welsch, Professor Greg Shaya (History), and Professor Nii Nikoi (GMDS) for a Virtual Roundtable from 7pm to 8pm for a longer conversation about the documentary.
Both events will be held via Microsoft Teams. You can register for them using the same link above!
For any questions about these events, please reach out to Christina Welsch (cwelsch@wooster.edu).
Hope to "see" you next week!
More about White Riot is available here: https://www.modernfilms.com/whiteriot.
"Rubika Shah's award-winning and energising film charts a vital national protest movement. Rock Against Racism (RAR) was formed in 1976, prompted by 'music's biggest colonialist' Eric Clapton and his support of racist MP Enoch Powell.
White Riot blends fresh interviews with queasy archive footage to recreate a hostile environment of anti-immigrant hysteria and National Front marches. As neo-Nazis recruited the nation's youth, RAR's multicultural punk and reggae gigs provided rallying points for resistance. As co-founder Red Saunders explains: 'We peeled away the Union Jack to reveal the swastika'.
The campaign grew from Hoxton fanzine roots to 1978's huge antifascist carnival in Victoria Park, featuring X-Ray Spex, Steel Pulse and of course The Clash, whose rock star charisma and gale-force conviction took RAR's message to the masses."