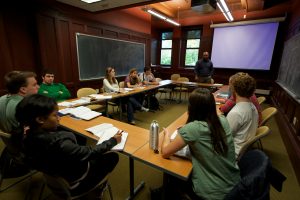 The Department of History is thankful for the many graduates and friends of the Department who have supported the work we do with their generous contributions! These contributions have gone to support student travel, sponsor internships, bring speakers to campus, and expand our Departmental Library. If you would like to give a gift to the History Department, feel free to send your gift directly to the Department or to the Office of Alumni Relations & the Wooster Fund with this designation. If you would like to discuss how your contribution might be used to create new opportunities for students, don't hesitate to contact the Chair of the Department.
There are many other ways that graduates and friends have supported the Department: sharing information on internships, telling us about graduate opportunities, serving as an alumni mentor, coming back to campus to talk about career opportunities (in history and in other fields), and more. Please don't hesitate to let us know if you have something to share.
Thank you for your support!
Greg Shaya
Chair, Department of History
gshaya@wooster.edu   330-263-2169