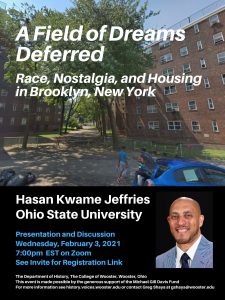 Please join us for a talk by the distinguished historian, Hasan Kwame Jeffries, entitled "A Field of Dreams Deferred:  Race, Nostalgia, and Housing in Brooklyn, New York" on Wednesday, February 3, 2021 at 7:00pm EST over Zoom.  The event is free and open to the College of Wooster Community. To attend the lecture and the Q&A that follows, please register here.
This presentation will explore the intersection of race, place, and memory in the urban North by examining the intergenerational African American struggle around housing in the Crown Heights section of Brooklyn, New York. This is an intensely local story, but one with a script that could have been written about any number of American cities.
And note: Professor Jeffries will be available to meet with students during the day on Thursday, February 4, from 11:15am to 12:15pm EST. If you are interested in meeting with Professor Jeffries, please contact Greg Shaya in the Department of History (gshaya@wooster.edu) for details.
Hasan Kwame Jeffries is associate professor of history at The Ohio State University where he has been teaching courses on the Civil Rights and Black Power Movement for the last eighteen years.
He is the author of Bloody Lowndes: Civil Rights and Black Power in Alabama's Black Belt, and the editor of Understanding and Teaching the Civil Rights Movement, which won the 2020 James Harvey Robinson Prize from the American Historical Association for the most outstanding contribution to the teaching and learning of history in any field for public or educational purposes. He also wrote and narrated the 10-episode Audible Original series Great Figures of the Civil Rights Movement, which was released in February 2020.
In the classroom, he has won several major teaching awards, including The Ohio State University Alumni Award for Distinguished Teaching, the university's highest award for teaching.
Dr. Jeffries has worked on several public history projects, including serving as the lead historian for the five-year, $25 million renovation of the National Civil Rights Museum at the Lorraine Hotel in Memphis, Tennessee. He is also the host of the podcast Teaching Hard History: American Slavery, a production of the Teaching Tolerance division of the Southern Poverty Law Center, which just wrapped up its second season.
He earned a BA in history from Morehouse College in 1994 and a PhD in American history with a specialization in African American history from Duke University in 2002.
This event is made possible by the generous support of the Michael Gill Davis Fund.