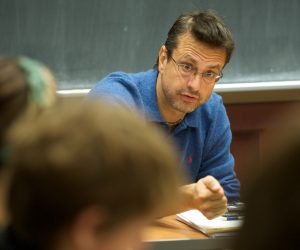 A note for First-Years interested in History: Hello and welcome to your first on-your-own registration!
My name is Jeff Roche and I'm chair of the History Department. I understand that these next few days can be a little overwhelming. Since you have indicated an interest in the History Department and its courses in the past, I thought I'd offer some suggestions for thinking about possible spring courses.
First, don't let the course numbers steer you away from a course you might be interested in taking. Most of our 200-level courses are appropriate for First Years. This is especially true for our survey courses of parts of the world. This spring we are offering courses on Renaissance Europe, Modern Latin America, Tudor-Stuart England, Israel and Palestine, Modern Africa, Modern China, and a class on the Intellectual History of Black America.
I also urge you take a look at our topical courses in 101 and 201. Our 101 courses are meant to be an introduction to way historians read, think, and write, each of these courses have slots set aside for First Year students. They include the History of Islam, From Protest to Politics a study of the Black Freedom Struggles since 1965 and Chinese Medical Traditions.
Our 201 courses are designed to introduce students to some of the crucial research and writing skills needed in the major. We crafted these courses with First Years and sophomores in mind. They too have seats set aside for First Years. These also fulfill the college's W requirement. These courses include The History of the News, The History of American Holidays, The History of Latin America and the United States, and The Western (think John Wayne and Cormac McCarthy). And while they have a prerequisite of one history course, if you haven't yet taken a course, but are interested in one of these classess, contact the professor; if there is room, we always welcome eager students.
And there are always the large survey courses in American and western civilization history. These too are designed for students interested in a broad overview of the past.
If you have any questions contact me. If you have specific questions about a particular course, go ahead and email that professor or drop by their office. We'd love to talk to you about next semester's offerings. You can also find out information on Scotweb.
Hope you have a great registration period and a good spring semester!
Jeff Roche
Chair, Department of History