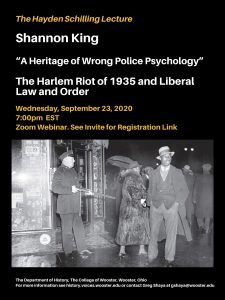 Dear Students and Colleagues,
Please join us for the Fall 2020 Hayden Schilling Lecture, a talk by the distinguished historian, Shannon King, entitled "A Heritage of Wrong Police Psychology": The Harlem Riot of 1935 and Liberal Law and Order. The event, open to the College of Wooster Community, will take place on Wednesday, September 23, 2020 at 7:00pm EST over Zoom.
Register in advance for this webinar: https://us02web.zoom.us/webinar/register/WN__PrYiNnWRhCRYX946Klydw  After registering,you will receive a confirmation email containing information about joining the webinar.
"A Heritage of Wrong Police Psychology" mirrors current discussions on police reform. In response to the Harlem Riot of 1935, Harlem's diverse Black leadership, from the liberals of the NAACP to leftists in Communist Party, rejected the riot as an expression of disorder. Demanding political and economic reform, Blacks' efforts for root-cause solutions anticipated today's calls for defunding the police.

Shannon King is Associate Professor of History and Black Studies at Fairfield University. His work explores the long black freedom struggle. He is the author of Whose Harlem Is This, Anyway?: Community Politics and Grassroots Activism During the New Negro Era (New York University Press, 2015), winner of the Anna Julia Cooper/CLR James Award for Outstanding Book in Africana Studies and named a 2015 CHOICE Outstanding Academic Title. He is currently working on a new project on race, crime, and punishment tentatively titled, Policing the Crisis: Black Protest and Law and Order during the La Guardia Era.

Professor King will be available to meet with students during the day on Thursday, September 24, from 11:30am to 12:30pm EST. If you are interested in meeting with Professor King, please contact Greg Shaya in the Department of History (gshaya@wooster.edu) for details.

We hope to see you there! gks