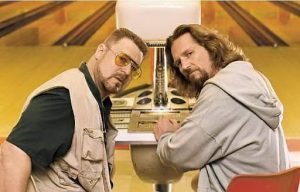 A message from the Chair of History:
The end of the semester approaches like an eighteen-wheeler careening down an icy mountain pass. Finals to study for, final papers to write, I.S. chapters to, well, finish or. . . something; the laundry is piling up and, frankly, starting to smell, the thought of another Lowry meal is too sad to even think about; your roommate screams hourly about her latest "breakthrough. " And, worst of all, the long, cold, gray winter is setting in. What to do? Well ask yourself: "What would Walter Sobchak do?" "What would Big Ern McCracken do?" "What would The Dude do?" Well, The Dude would abide, but he'd also go bowling.
The Department of History understands this time of year. So, in the spirit of Lebowskis big and small, we'd like to invite you to join us at Scot Lanes December 3rd from 6-8. We'll set up the ping pong tables and Professor Shaya will take on all comers. If you are feeling particularly lucky, put your money up against Professors Pozefsky and King and shoot a little eight ball. Or join Professor Roche at the pinball machines. Think you know how to play air hockey? Wait until you play Professor Sene. But of course the highlight of the evening will be the appearance of the internationally-ranked History Department bowling team: Clio's Rollers. The defending national champions of the American Liberal Arts League: Professors Schilling, Hettinger, Baumgartner, and Ng will putting on a demonstration of bowling prowess rarely seen outside the hallowed lanes of the National Bowling Stadium in Reno.
Let's roll.
Jeff Roche