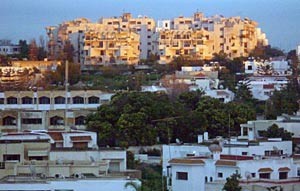 As it happens, I'm in Rabat, Morocco this week checking out the new SIT study abroad program on Journalism and New Media (together with well-established SIT programs here on Migration and on Human Rights). These are amazing programs, led by brilliant and committed faculty. They offer an experience that will stretch your minds, a wonderful entryway to the Arab world, a lovely (and livable) experience where you can come to understand global problems from a distinctive perspective. I wish I were a student again.
It got me thinking to what students are up to these days. We don't hear enough about their off-campus study experiences. So… let me encourage you to check out a few of your fellow history majors and their blogs of their off-campus experiences.
Audrey Creamer (double major in History and German) is in Berlin. See her blog at: http://www.audreyabroad.com/
Megan Smeznik is at the University of York for the semester. You can see what she has to say at: http://studyabroad.voices.wooster.edu/
Ruby Summers is in Bolivia. Watch her news at: http://rubyinbolivia.voices.wooster.edu
I'd like to have a central place for all of the blogs of all of the history students studying off campus. Have a blog to share? Send it along to me at gshaya@wooster.edu and I'll share the address with your classmates.
For those of you off campus this semester: make the most of it! For those of you planning to go off campus next year: an exciting experience awaits you. And for those who are wondering whether or not to take the plunge: don't hesitate.